Our research and Development team ensures that Our's breakthrough and cost effective tailored web solution eases and solves your business challenges to add one step towards your DREAM GOAL. Web is the core of a Web Application or Mobile application and Our expertise in finding the business problems and providing smart solution with cutting edge technology has rewarded us customers globally.
Be it simple or complex, we understand the unique needs and thus specialize in custom application development to address those specific needs.
Code we breathe , eat and digest too .Whether its Frontend development – HTML, CSS, Javascript, JQuery or CMS development - Wordpress or Backend development - PHP with frameworks , Node JS . or Python our experts are ready to makes everything work for you .
UPDATED | CLEAN CODE | RESULTS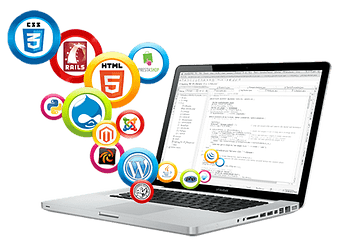 Our unmatched web application services :
Custom web Development
Enterprise portal development
Mobile Backend
B2B PortalEnterprise
eCommerce solutions
Scalable Rest API
If you might have a running web Application and need support or looking for online presence we are a click away.